If you love Christmas as much as we do then you'll want to get your tracks live before the big day. To make the end of the year and the festive period as enjoyable as possible, we wanted to let you know about the holiday opening times of some of our distribution partners.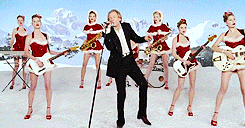 Why do you need to know this?
Over the next few weeks, delivery times and deadline dates will change, for iTunes in particular, and we would hate for anyone to be disappointed because their release did not go live on the date they were hoping for!
To avoid this, please see below for the cutoff dates for you to upload your music to Spinnup.
Release Dates


Upload to Spinnup Dates

23rd November , 2018

Friday, 9th November, 2018

30th November, 2018

    Tuesday, 13th November, 2018

7th December, 2018

    Tuesday, 27th November, 2018


15th –
21st December, 2018

    Tuesday 4th December, 2018


28th December –
4th January, 2019

    Tuesday 11th December, 2018
Please also note Beatport will not be releasing any content from the 15th December – 2nd January, to make sure you release is available on Beatport before these dates please upload to Spinnup by Friday, 13th December.
Remember, these are the deadlines for a complete and error-free release. To be on the safe side, make sure you read our Step by step guide on how to create a release properly and try to have it complete before the deadline date. This will avoid you having to make any corrections and risk missing the cut off!
One Last thing…
As we're in the holiday season and very busy dealing with large amounts of festive cheer, please allow up to 3-4 days to receive a response from our support team.
We hope you have a great Christmas and wish you all the best for the New Year!